Monday, May 4th, 2009
---
11:37 am
- Video from Friday's performance at Ong King!
Monday, November 3rd, 2008
---
10:56 am
- propagating a meme... vote no on 8!
Copy this sentence into your livejournal if you're in a heterosexual marriage, and you don't want it "protected" by the bigots who think that gay marriage hurts it somehow.

(Or more importantly... I want everyone to have the right to marry...)
Wednesday, October 8th, 2008
---
4:35 pm
- eek...
I am now officially a contestant in the Belly Dancer of the Universe 2009 Fusion Competition.

Whoa. This should be interesting...

current mood: excited... and scared!
Tuesday, August 26th, 2008
---
2:24 pm
- impersonating robots is fun!!!
ok, the video's kind of crummy, but I got to be a robot!



current mood:
busy
Wednesday, May 14th, 2008
---
3:53 pm
- I'm going to be on (internet) TV!
So if you're bored and need more web-surfing fun, I'm going to be on Dave Navarro's Spread Entertainment (a cool alternative internet talk show) tomorrow (8 eastern, 5 pacific, 2 hawaii):

http://www.maniatv.com/shows/spread-entertainment

doing the typical (fire, bellydance, and talking astronomy.) Don't worry too much about the air times... it's the internet, so you just click and watch.
Check it out!

current mood:
excited
Tuesday, May 13th, 2008
---
9:05 pm
- sky, cerro tololo observatory
Tonight's my final night at the 4m here at Cerro Tololo Observatory.
Getting data is exciting; the actual process of data taking seldom is. Most of the time it goes something like this:

1) press button to run script
2) check that images don't look totally horrible
3) press button to run script again

Suffice to say, it's depressingly easy to get stuck in the control room all night.

So, every time I go observing I try to do two things:

1) get into the dome at least once and see the telescope
2) go outside at least once long enough to dark adapt and really do some stargazing

I just slipped out for a bit to see the sky. I have to say the southern sky has the northern sky beat hands down in terms of sheer beauty. Right now, the moon has set and the galactic center is up. I stepped outside and couldn't see anything for a brief moment. Then the first thing I saw was the Milky Way. It's so dark here that you don't even need to dark adapt to see it. You can see so much structure in the Milky Way -- the coalsack nebula (a big dark cloud that just looks like a hole in the galaxy), dust lanes. I want to say it looks like jewels, or candles in the night... but in some ways that lessens the beauty and enormity of what it is. Sometimes it's lovely just to look out and be able to say "I live in a spiral galaxy. Isn't that awesome?" It is very visceral and fulfilling to now and then actually physically see what it is I study, not just stare at an image file on the computer. I feel very grateful right now.

current mood:
grateful
Wednesday, February 20th, 2008
---
11:12 am
- Hey East Coast people -- I'm performing in Boston, 3/1/08!
I'm really excited to be performing with Walter Sicker and the Army of Broken Toys (not to mention a whole gaggle of other amazing performers, from burlesque poetesses to hula hoopers to ... well, come out and see if you're curious). Don't miss this one (if you're within 1000 miles)!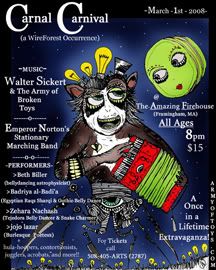 Contact: Edrie
617-909-9134
info@armyoftoys.com
www.armyoftoys.com


Carnal Carnival
Saturday March 1st
8pm
The Amazing Firehouse
160 Hollis St
Framingham, MA 01702

Advanced Tickets Strongly Suggested

508-405-ARTS (2787)
$15 (Stu/Sen $14, Mem $12)

http://www.amazingthings.org/frontpage2.asp?DC_ID=840

current mood:
excited
Monday, November 26th, 2007
---
5:48 pm
- my first performance in Honolulu
I figured out how to upload video to my computer! As a result, here's the video of my first performance in Honolulu:



current mood:
accomplished
Thursday, November 22nd, 2007
---
12:34 pm
- I'm spinning fire on the History Channel Tues., Nov. 27th!!!
Hi everyone --

I'm doing my first "scientific talking head" TV appearance! Well, that and I get to spin fire too (it all makes sense in the show.) So catch the first episode ("Alien Planets") of the second season of "The Universe" (bet you can't guess what this show is about...) Tuesday Nov. 27th, 9/8 central on the History Channel. Hopefully I don't look like a total goober... ;-)

More info at:

www.history.com/minisites/universe

Happy Thanksgiving everyone!

Beth ;-)

current mood:
cheerful
Sunday, October 14th, 2007
---
7:25 pm
- this is just to say
I already used up my internet time, so I don't have time to write much.

Except, now we have furniture. Real furniture, not from the used furniture store or left over from the 1970's.

That, and computers really shouldn't be run at 94.4F. I don't think we're coming back to this internet cafe soon.

Will write more stuff later. Miss you all!

current mood:
awake
Friday, October 12th, 2007
---
7:45 pm
- updates and stuff
Things are going well here. We got the apartment cleaned up and whatever I'm allergic to in there seems to be abating. Ok, since the whole "writing in complete paragraphs" thing is passe, here's a list.

good stuff:
1) At the mall here they have a whole stand at the food court that is entirely mochi. I got a chocolate covered strawberry... in chocolate mochi. This is seriously the most exciting thing ever.

2) Snorkeling at Hanauma bay. Yay fishies! And I only clocked
kyrademon in the head with a flipper once (he has since forgiven me.)

3) Vegan dim sum.

4) Oceanview apartment.

5) Lots of other stuff, but I'm too lazy to write them here.

not so good:

1a) The whole not knowing anybody here thing. It's starting to get old and it's been less than a week. And patience isn't exactly my strong suit.

1b) I miss you all!

2) No cacti!

current mood:
calm
Wednesday, October 10th, 2007
---
10:06 pm
- safe and sound in honolulu
Just to let you know,
kyrademon and I arrived safely in Honolulu today. Then we bought a futon. You can indeed see the ocean clearly from our apartment, unfortunately I'm also quite allergic to something in the apartment (mold perhaps.) So then we bought a giant air filter. So not into buying house stuff.

Miss you all already. More later.

current mood:
tired
Monday, February 13th, 2006
---
10:13 pm
- The land of no social skills
So I'm observing again. Right now, it kind of feels like being trapped on a lonely mountaintop... as part of a sociological experiment. One thing that really gets me about astronomers is their general lack of social skills.

Tonight I ran into an acquaintance (observing on another telescope up here) who I haven't seen in maybe 2 years or so. So I was happy to see him and said hi. Was this guy happy to see me or even remotely friendly? No. First he upbraided me for being on the phone when he needed to call the telescope then he was upset when I asked if he still worked at Harvard, since *actually* he works for the Smithsonian. Dude, get a grip. (Ironic also -- I used to work for the Smithsonian I had the exact same conversation a zillion times, and there's a nice way to say that you work for the Smithsonian instead of Harvard, really there is.)

So was he really being mean or just unbelievably challenged in the whole social skills department? Considering that he's an astronomer, the second is really not unlikely (and this sort of interaction is actually par for the course for him, as I recollect). I've had so many weird interactions like that -- sometimes it's just the general problem of what do you say to this person who will only talk shop, sometimes people are really weird about my appearance, me being vegan, bellydance, etc., etc. Mostly, it's that I really just don't know where I stand with people in my field since they don't really seem to share the same social cues that I have. It often feels like I just operate on a different set of social rules than many other people in my field and no one has bothered to fill me in.

But look: here's the brown dwarf I found. It's the little one, the big one's an M star (a very low mass red star):




So yeah, nice people on livejournal and tribe, if you're like, up right now, drop me a line and remind me what it's like to interact with people with some degree of social skills!

current mood:
annoyed
Friday, January 20th, 2006
---
11:53 pm
- hair color exclusion principle
So, now, with relatively little staining of the bathtub I've got bright red hair! Yay! And finally, I don't match *anyone* important. (
kyrademon has pink hair and we were totally getting all the "oh, that's so cute comments". In Midriff, Lori has dark blue hair and Allison has pink-purple. For a while I was matching Lori a bit too closely and then tending a little bit too closely to Allison's hair color. It's really difficult to coordinate hair color with three other people...)

Also, finally I'm all packed for Boom Boom Bellyfest (look at domba.com if you're confused). We're leaving for Phoenix at 7 am... Tomorrow, we're taking classes from and then Midriff's (in the second set, even) performing in front of Gypsy Caravan. Whoa. And it's now been 4 years officially that I've been bellydancing, which is a scary thought. Double whoa is that my parents will be coming to the show and this is pretty much the first bellydancing they've seen *ever*.

When I get back, I'll post pictures of my little discovery! (Submitted the paper yesterday, so it's not a secret anymore -- I found a rather interesting brown dwarf very close to the Earth.)

current mood:
sleepy
Thursday, December 29th, 2005
---
10:50 pm
- another year...
Oh dear. What happened to 2005? I think it got out of its cage and ran away or something...

Highlights of the last week or so, since I don't really have anything better to write about (in reverse chronological order):

1)
kyrademon bringing home a truly fugly pinata for new years, which will still serve admirably with some adjustment.
2) Finding that one of our survey stars has a little "friend" -- nothing too exciting yet, might be a background object, but at least it's not a speckle.
3)
lafontain and Ryan are in town! Yay!
4) Checking out Hancock fabrics with the rest of the Midriff chicas and then buying over $300 of fabric for costumes for Boom Boom Bellyfest!
5) Checking out that nature thing -- Kartchner Caverns and the Painted Desert and fossilized trees and stuff.
6) Having the lovely
rubyberlin show up on our doorstep at 11 pm and getting to make good on my promise that indeed, she was welcome to show up on our doorstep anytime. And getting to hang out with her.

Oh... and would anyone in Tucson (women, this is) like a free sample of emergency contraceptive? Apparently, unless Planned Parenthood here distributes a certain number of samples they're going to lose some funding. Let me know, and I can pass on your info to my yoga teacher who will pass it on to her midwife, who will score the goods.

current mood:
cheerful
Sunday, November 6th, 2005
---
1:39 am
- All Souls
Great writeup on the All Soul's Procession. Hope to see some of you in the procession later today!
Tuesday, November 1st, 2005
---
9:34 pm
- Back from Hawaii. Much General Craziness.
I'm back from Hawaii and, in order to procrastinate working on my (late) optics homework, I'm updating livejournal!

Unfortunately, this week is *crazy* busy. It's the lead up to Day of the Dead. (Midriff Crisis is performing in the afterparty... I'll post more details later.) Plus about a zillion proposals and abstracts and stuff are due early next week. And, um, yeah, there's those two problem sets for my optics class which are now late.

I had my first violin-related paranoia dream in years last night... the varnish was coming off of it and it was pretty much cracked to splinters. I think the dream was triggered due to the fact that I'll be playing violin for the Day of the Dead afterparty. Whee...

And now I have to head off to rehearsal... at 10 pm! Yup... only time we all could meet.

I'll post pictures once I develop my film. (I know, very quaint...)

current mood:
tired
Tuesday, October 25th, 2005
---
6:35 pm
- Hawaii!!!
So I'm in Hawaii (the big island) for the Protostars and Planets meeting. Yay!

It's very pretty and blue here and there are sea turtles and stuff. Oh, and dolphins at the Hilton. I feel very sorry for the dolphins because they are stuck in a rather small pen for most of the time and then have to do stupid dolphin tricks the rest of the time. Apparently, they're pretty happy -- they get lots of fish and have lots of sex (someone was telling me that they have the dolphins on contraceptives).

There are also lava flows everywhere. Well, old ones, not new molten ones. Although perhaps I will get to see some of those later this week.

My poster is tucked into the most hidden corner of the poster session ever. Oh well.

The big vegetarian food disaster I had been afraid of (I had emailed the organizers about vegan options and gotten a lot of stonewalling and huge non-answers) is resolving itself... because hey, there's 800 people at the conference and 40+ annoyed vegetarians making a fuss.

Ok. I'm out of things to say.

current mood:
cheerful
Thursday, August 18th, 2005
---
11:37 pm
- Don't miss this!! Midriff Crisis at Fetish Heat!
Midriff Crisis at Fetish Heat this Saturday


So if you only come to one Midriff show this year or any year or whenever, you *must* come see us this Saturday!!! We're doing 4 sets at the Fetish Heat event at the rock and without a doubt this is our best show to date.

Don't want to say too much more, but check out:
the Fetish Heat site

or the Midriff site for details.

It's even in the weekly

current mood:
excited
Monday, August 1st, 2005
---
2:02 pm
- so cool!